International Map of Axial Spondyloarthritis
The International Map of Axial Spondyloarthritis (IMAS) is a research initiative assessing the impact and burden of axial spondyloarthritis (axSpA) from the patient's perspective.

Developed by people living with axSpA, for people living with axSpA, the aim of this national and international collaboration is to generate insights into the real-life experiences of people living with the condition. Ultimately, these insights should support people living with axSpA in speaking up about their condition to help shape discussions towards improving quality of life.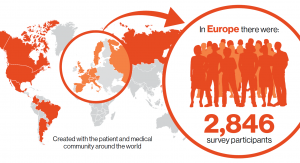 Launched in June 2019, the European data from the IMAS survey included 2,846 people diagnosed with axSpA from 13 countries. Key findings from the IMAS survey include:
Despite improvements, diagnostic delay is still too long: people living with axSpA suffer a delay in diagnosis of over 7 years
Active disease limits professional opportunities: 74% of people surveyed living with axSpA reported difficulties finding a job due to the condition, 56% were forced to take sick leave and 45% had difficulties in fulfilling their working hours
Symptoms appear during prime of life: on average, people surveyed living with axSpA began experiencing disruptive and debilitating symptoms at around the age of 26
Despite fear of losing mobility, pain and disease progression: 1 in 3 people surveyed living with axSpA had never discussed their treatment goals with their doctor
Co-creating solutions with all stakeholders will improve quality of life and standard of care for people living with axSpA
Expanding the axSpA patient voice We are pleased to announce that seven abstracts have been presented at this year's Annual European Congress of Rheumatology (EULAR 2019). Please find key information below:

This announcement comes after previous abstracts were presented at the following:

American College of Rheumatology's Annual Meeting (ACR 2018)
International Congress on Spondyloarthritides (SpA 2018)
Professor Marco Garrido Cumbrera, University of Seville, Spain led this exciting project with assistance from ASIF, the Health and Territory Research (HTR) group of the University of Seville, the Spanish Coordinator of Spondyloarthritis Associations (CEADE), medical experts, plus funding and support from Novartis Pharma AG.
The IMAS survey is currently being expanded, the next phase will include results from additional countries in Europe, North America, Latin America and Asia Pacific later this year.

Other NEWS