World AS Day 2022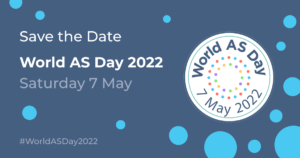 We are developing the World AS Day 2022 campaign with guidance and input from our Sub Committee, made up of representatives from our member organisations.
The campaign will focus on general awareness raising, rather than focusing on one impact of axSpA.
We look forward to sharing more detail with you in the new year.
The first set of World AS Day assets for the 2022 campaign will be emailed to you, they include the logo, three Save the Date assets (sized for Facebook, Twitter and Instagram), along with a blank template that you can insert translated copy into.
Please share the images on your social channels to raise awareness of the upcoming campaign.
Please use the hashtag:
#WorldASDay2022
in all posts/tweets so that we can track engagement.
We will run webinars for our members to introduce the campaign, as we did last year. I look forward to inviting you to these events in the new year.
The Global Summit,
The Global Summit, hosted by the Spondylitis Association of America (SAA) will take place from 6-7 May. As a supporter of the Summit, ASIF will fund the translation of the presentations in a variety of languages again this year.
Zhivko Yankov encouraged members of the Bulgarian Association to attend the summit. He commented, "Having the presentations available with Bulgarian subtitles made the Summit content accessible to our local axSpA community. The sessions contained really interesting and beneficial information. I will be encouraging our members to attend again next year, and urge you to do the same."
Last year the sessions were translated into languages including: Bulgarian, French, German, Greek and Russian. Please contact us if you would like to have the presentations translated into your language.
Walk Your AS Off
We hope to increase participation in Walk Your AS Off this year. The annual walking challenge encourages participants to get moving through the month of May. We know that walking can be of great value to people living with axSpA, but sometimes it can be hard to make time to go for a walk. Walk Your AS Off helps to motivate people to count their steps – whether it is going for a walk in the countryside, getting off the bus a stop earlier and walking that extra distance into work, or walking to the local shop instead of driving there.  Other forms of exercise can be converted into a step count, for example swimming, yoga or even doing housework! Registration will open in April for this fun and active event.
Thank you to the members of the subcommittee who are helping develop this year's campaign.
Other NEWS