World AS Day reached more than 48 million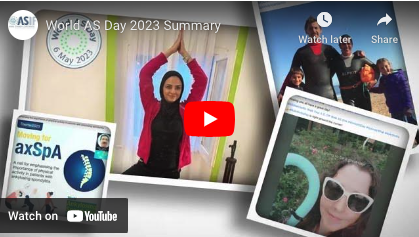 The World AS Day awareness campaign reached more than 48 million people around the world.
This is a significant jump from previous years. And that is just half the story – our members, industry partners, healthcare practitioners and people living with axSpA posted, tweeted and shared content through their own channels resulting in the awareness campaign reaching a much larger number. In addition to social media, in-person and online events were held around the world, including a series of walks in South Africa, workshops in Colombia, and conferences in Italy and Spain.
More than 70,000 people visited the ASIF website during the campaign, with over 90% of them spending enough time on the World AS Day page to understand the campaign and learn more about axSpA.
A comprehensive report on the campaign is being written and will be shared with members soon.
---
Global Stretching Events
Yoga for AS
Two 'Stretch and Move' events got people moving on World AS Day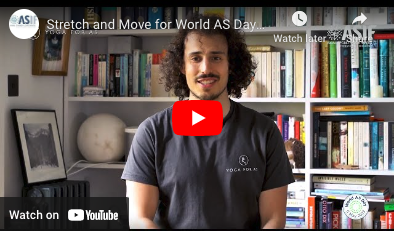 The events, run by Jamie Boder and Geoff Lindsay, co-Founders of Yoga for AS were designed specifically for people with axSpA.
Jamie and Geoff, who both have axSpA, provided options for each pose, making the sessions accessible to everyone regardless of their level of flexibility.
The sessions were watched on our website and social media channels. Delegates at the SAA's Global Spondyloarthritis Summit had the opportunity to watch the sessions during the Summit in the Activity Lounge.
The sessions are available to watch on our website. They will feature on our Resources webpage long-term so they can be used at any time.
---
Walk Your AS Off
This year 86 teams from 39 countries reported over 102 million steps on our way to Mars!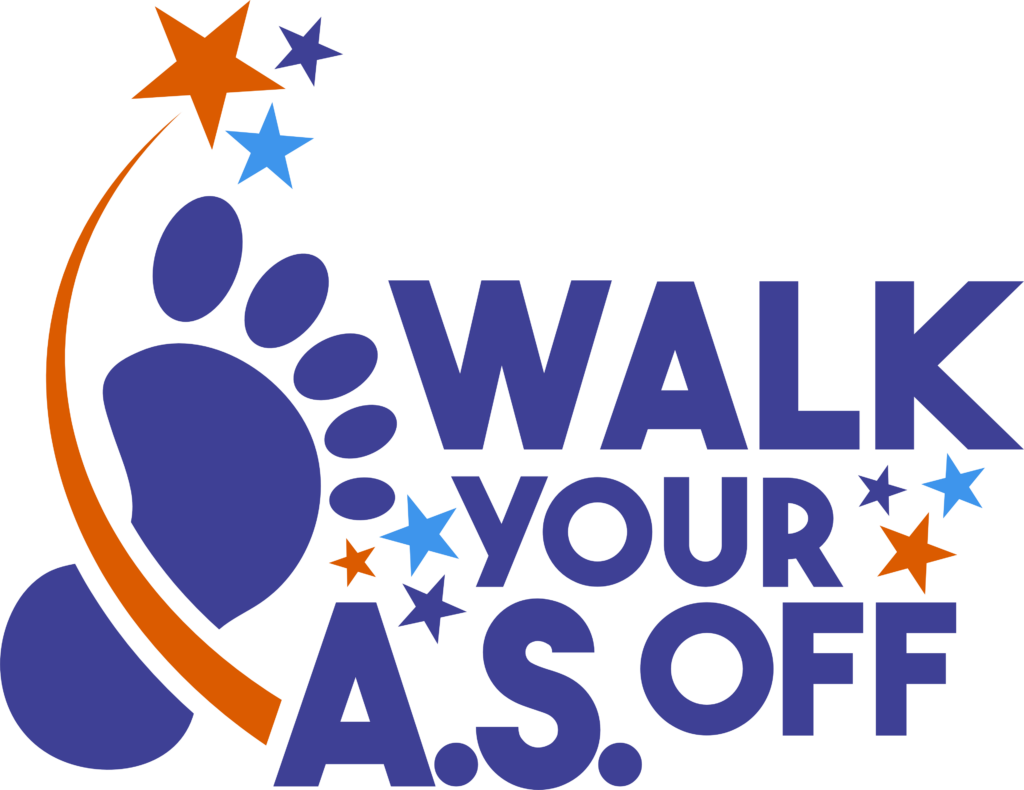 Written by Jennifer Visscher, Walk AS One
This virtual walking campaign brought together people from around the world, united by a common goal—to raise awareness and support for axSpA and related spondyloarthritis diseases.
The campaign's achievements are a testament to the strength, determination, and unwavering support of the incredible community of participants.
Uniting for a Shared Cause
The Walk Your AS Off campaign rallied individuals affected by axSpA and AS, their families, friends, and supporters, generating a powerful sense of unity. Together, participants embarked on a journey, symbolising the daily challenges faced by those living with the disease.
The impact of the 2023 Walk Your AS Off Campaign was felt not only within the community but also in the broader public sphere. Through the dedication and passion of participants, the campaign spread awareness, educating others about the condition, and broke down stigmas associated with invisible illnesses.
As Cheryl said, "I had no idea I could do even 200 steps a day. When I was inspired to join Walk Your AS Off, I couldn't believe I was doing thousands of steps a day and I could see and feel my progress. Walk Your AS Off gave me the courage and community I needed to take steps to be more active and I'm so very grateful for that."
A Global Movement
One of the most remarkable aspects of Walk Your AS Off is its ability to connect individuals from all over the world. The campaign transcends borders, fostering a global movement that promotes solidarity, empathy, and understanding. It has created an international platform for sharing experiences, providing support, and spreading awareness about axSpa on a global scale.
Congratulations and Appreciation
To every participant, supporter, and volunteer involved in this year's campaign, we extend our heartfelt congratulations and deepest appreciation. Each step taken, every conversation initiated, and every dollar raised has made a difference in the lives of individuals living with AS.
---
2023 Global Spondyloarthritis Summit
Recap of SAA's 5th Annual Global Spondyloarthritis Summit

Written by Jason Blackwell, SAA
SAA's 5th Annual Global Spondyloarthritis Summit is a two-day virtual event designed by and for the spondyloarthritis community.
Held each year across World AS Day during SpA Awareness Month, the Summit features 12 global rheumatology and health experts, presentations and speakers are vetted by an advisory committee composed of patients and physicians to identify the topics that are most important for people living with the disease.
Now in its fifth year, the Summit had more than 3,000 registrants attend from 92 countries. Our post event survey found that 98% of respondents would recommend the Summit to others living with SpA, and 99% plan to attend in 2024!
This year's program featured the topics below:
What is Spondyloarthritis? An Overview presented by Christine Stamatos, DNP, ANP-C, Northwell Health
Medications for SpA – Including New (i.e., JAKs) and What's on the Horizon. Drug Combinations & Interactions presented by Robert Inman MD, FRCPC, FACP, FRCP (Edin), Schroeder Arthritis Institute at University of Toronto
SpA Research Update (Advanced Topic) presented by Kristi Kuhn, MD, Ph.D., University of Colorado Anschutz Medical Campus
Cardiovascular Disease and Spondyloarthritis presented by Jean Liew, MD, MS, Boston University School of Medicine
When is Spine Surgery Recommended? Albert P. Wong, MD, DOCS Surgical Hospital
The Role of Genetics in Spondyloarthritis. Genes Associated (HLA-B27 and Beyond), Heritability (Advanced Topic) presented by Judith Smith, MD, Ph.D., University of Wisconsin School of Medicine and Public Health
Women & Spondyloarthritis: Childbearing Years Through Menopause presented by Peter Taylor, MA, Ph.D., FRCP, FRCPE, University of Oxford
Sleep & Spondyloarthritis presented by Soha Dolatabadi, MD, Arthritis and Pain Relief Medical Center
We'd Like to Know: Cannabis Update presented by Mary-Ann Fitzcharles, MD, McGill University
Diet & Nutrition: How/Why Does Gut Microbiome Affect Spondyloarthritis (Advanced Topic) presented by Mathew Stoll, MD, Ph.D., MSCS, University of Alabama at Birmingham
Flares: Possible Triggers to Avoid & How to Treat a Flare presented by Pendleton Wickersham, MD, FACP, Arthritis Associates PA
Tai Chi: Meditation in Motion with Live Demonstration presented by Soneka Lee, DPT, Golden Days Wellness Training, LLC
In addition, the Summit also featured other interactive elements such as a Leaderboard Challenge, Daily Quizzes, BASDAI calculator, Exhibit Hall, Poster Hall, and yoga programs in the activity lounge. We are grateful to everyone who played a role in helping to make the Summit successful, including our sponsors and our partners.
Learn more about this year's program.
Other NEWS