Vale Margaret Lewington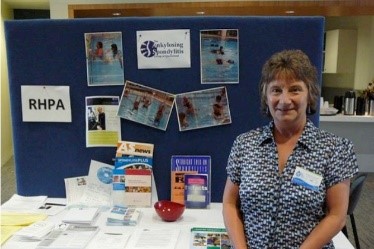 It is with great sadness that we announce the passing of Margaret Lewington, physiotherapist of Brisbane, Australia in June. A true champion of Ankylosing Spondylitis management, treatment and advocacy in the Musculoskeletal (MSK) healthcare and professional community in Australia and Internationally.
Margaret played an integral role in the organisation and operations of the Ankylosing Spondylitis Group of Queensland for over twenty‑five years. In addition to conducting weekly group hydrotherapy sessions for people with ankylosing spondylitis, Margaret played a core role in enhancing the social and education programs of the Group through her input in the newsletters, the organisation of speakers at the seminars conducted by the Group and in the organisation of many of the social activities (e.g., fun walks, dinners etc.).
Marg was influential in establishing the AS Victoria peer support group in 2005 along with Greg Tate, formerly of Brisbane, Ankylosing Spondylitis Group of Queensland and joint editor of Australia's important national AS newsletter, AStretch.
In addition, Marg has been an AS advocate and activist in the professional MSK community, through active involvement with Arthritis Australia, professional Rheumatology (ARA) and Physiotherapy (APA) societies. Additionally, Marg had long supported the international community, with Axial Spondyloarthritis International Federation patient and clinical networks.
Margaret was well-known and loved among ASIF's membership, she took an active part in ASIF's Council Meetings for many years, travelling to United Kingdom, Russia, Bulgaria and Turkey among other countries. She loved to feel connected to the world-wide community and was so dedicated that, due to the time zone difference, she regularly got up in Australia in the middle of the night to join ASIF's online meetings and webinars. Margaret was passionate about learning and sharing information and about the international community and how we could all help each other. In one of her last email to ASIF, she offered to assist us to find a way to connect physiotherapists working in axSpA around the world which we agree is a great idea. Margaret will be sorely missed.
Graham Collins (AS QLD), Annie McPherson (AS Victoria) & Jo Davies (ASIF)
Other NEWS