Obituary – Prof. Dr. Ernst Feldtkeller (1931 – 2023)
Written by Dr. Muhammad Asim Khan
It was with great sadness that we learned of the passing of Prof. Dr. Ernst Feldtkeller at 92 years of age (October 19, 1931 — January 4, 2023). He was truly a remarkable and inspiring person, scientist, and researcher, with a PhD in Physics. He was appointed Professor at the Universities of Stüttgart and Munich, and a researcher at the Siemens Research Laboratories in Munich. He had suffered all his adult life from ankylosing spondylitis (frequently called Morbus Bechterew in German-speaking countries), and in 1980 he played a pivotal role in the formation and subsequent management of the German Ankylosing Spondylitis Society named Deutsche Vereinigung Morbus Bechterew (DVMB).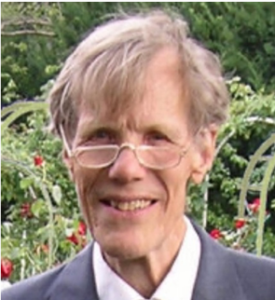 He authored an excellent book in German on ankylosing spondylitis for educating patients and their families and was the Scientific Director of the editorial office of the DVMB membership journal called Bechterew Brief. He was fluent in English, and he used to translate important English publications into German for the readers of his Journal. He selflessly put all his creativity, knowledge, and skills into the service of the DVMB and other organisations over the last 42 years.
On 8 April 1988, Ernst became a member of a committee that was formed, at the invitation of Fergus Rogers (of National Ankylosing Spondylitis Society, U.K.), to carry out the preliminary preparations necessary for the foundation of an International Ankylosing Spondylitis Association (which later became Axial Spondyloarthritis International Federation – ASIF). He was invited to attend the first ASIF Council Meeting in Leukerbad, Switzerland in July 1989, hosted by another remarkable patient and scientist Dr. Heinz Baumberger, PhD [1]. He was elected as a Vice-President of ASIF in 1992, a position he held until 2009. Thereafter, he served as ASIF's Scientific Adviser until retiring from this role in 2017.
After his retirement from Professorship in 1992, Ernst devoted his full attention to doing scientific studies and clinical research in ankylosing spondylitis. In 1996 he obtained financial support from the German Federal Health Ministry and initiated a professional survey among the more than 14,000 patient members of SVMB. 1614 patients responded to this survey, and extended reports of the results were published in five issues of Bechterew Brief in 1997-1998. He then presented these results in English at the 1st International Congress on Spondyloarthropathies, in September 1998 in Gent, Belgium. Over the years Ernst had published many highly cited articles in German and English, and based on his extensive contributions, he was awarded membership of the Assessment of SpondyloAarthritis international Society (ASAS).
Ken Mulholland (ASIF Secretary 2002-2011) recalls meeting Ernst at the first ASIF Council Meeting; "My early impression of Ernst was his extensive knowledge of the disease, his research, and his extensive publications. Over the years, I got to know Ernst little more and see how instrumental he was in introducing Ankylosing Spondylitis to the world through his development of the ASIF website. Ernst was very meticulous in all his workings."
I first met Ernst at the first ASIF Council Meeting in Leukerbad in 1989 and we became lifelong friends and co-authored two of his many highly cited publications [2, 3]. I frequently exchanged with him articles of interest and helped maintain Ernst's remarkable personal library of articles from medical journals stored either digitally in a PDF format or, in some cases, as printed documents. He shared his personal library with me, and I sincerely hope that it will be kept alive and up to date.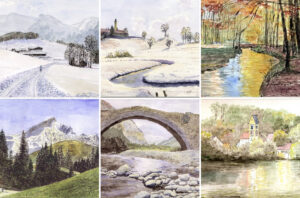 Ernst's other interests extended to mountaineering, cycling, playing the flute, and painting beautiful watercolour landscapes (pictured), many of which he generously gave away to friends and colleagues. He was also an avid photographer, always carrying his camera with him, and he regularly summarised important scientific meetings along with pictures of scientific presenters.
With Prof. Dr. Ernst Feldtkeller we have lost a valued companion, a respected fellow patient, and a good-hearted and charismatic personality. His unparalleled commitment, diligence, frugality, and modesty were an example to us all.
With his exemplary commitment to those affected, Ernst Feldtkeller earned a high and lasting reputation in the global spondyloarthritis community. Ernst's contributions to DVMB and ASIF, and to the rheumatology and patient communities at large, will be sorely missed.
REFERENCES:
Khan MA., Accomplishments of Heinz Baumberger PhD: A remarkable patient with ankylosing spondylitis for 72 years, Clin Rheumatol. 2016 Jun;35(6):1637-1641. doi: 10.1007/s10067-016-3259-0. 
Feldtkeller E, Bruckel J, Khan, MA., Scientific contributions of ankylosing spondylitis patient advocacy groups. Current Opin Rheumatol. 2002 Jul;12(4):239-247.  doi: 10.1097/00002281-200007000-00002.
Feldtkeller E, Khan MA, van der Heijde D, van der Linden S, Braun J., Age at disease onset and diagnosis delay in HLA-B27 negative vs. positive patients with ankylosing spondylitis, Rheumatol Int. 2003 Mar;23(2):61-66. doi: 10.1007/s00296-002-0237-4.
Other NEWS