Nagaraja's Ironman Triathlon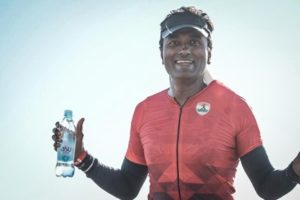 Nagaraja's Ironman Triathlon
The Founding Member and Secretary of Ankylosing Spondylitis Welfare Society (ASWS), Nagaraja Suryanaranappa (pictured left and below), has just completed his first Ironman Triathlon, in 15 hrs, 25 min and 34 sec.
This mega event took place in Nur-Sultan, Kazakhstan on 14 August 2022.
An Ironman Triathlon is one of a series of long-distance triathlon races organized by the World Triathlon Corporation (WTC), consisting of a 2.4-mile (3.86 km) swim, a 112-mile (180.25 km) bicycle ride and a marathon 26.22-mile (42.20 km) completed in that order. It is widely considered one of the most difficult one-day sporting events in the world.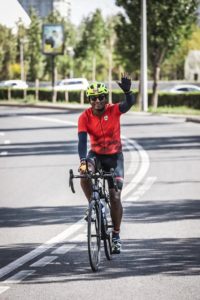 Nagaraja was diagnosed with AS in 2012, after suffering for 13+ years. His journey to running/fitness started in mid-2017 when the pain due to AS intensified again. Despite not being into sport as a child, he took up running, along with other regular exercises, with consultation from a Rheumatologist. After 6 months of practice, he completed his first 10km run in October 2017. From there, he built up his strength and completed his first full marathon, (42.2km) in January 2020.
Determined not to let the three-month lockdown affect his fitness, Nagaraja ran indoors, clocking up 767kms. In 2022 he participated in his first multi-sport event, the Kolhapur Bergman Duathlon (Running-Cycling-Running). He became inspired to learn to swim and in less than two months swam 3km. In May 2022 he registered for the Kazakhstan Full Ironman.
In the Ironman, he finished the 3.8km swim in 01:52:17, 180km cycle in 07:28:36, and 42.2km run in 05:41:01 – with a total time of 15:25:34.
His journey is inspirational – don't let AS limit your dreams!
Other NEWS