Global Spondyloarthritis Summit 2020 – Registration Now Open – 1-7 May 2020
Save the date, May 1-7, 2020
Registration is now open for the Global Spondyloarthritis Summit 2020
Save the dates, 1-7 May 2020, for the SAA's 2nd Annual Global Spondyloarthritis Summit. This year's virtual Summit will feature 12 international experts presenting on topics such as pain management, advances in treatment options, diet & nutrition, exercise, progress in research, medicinal cannabis, and more.
There is no cost to register and participation is strongly recommended for anyone impacted by axial spondyloarthritis, whether it is you or a loved one.
This year the videos will come with subtitles in the following languages: Spanish, Ukranian, French, Italian, Bulgarian, Russian and Chinese.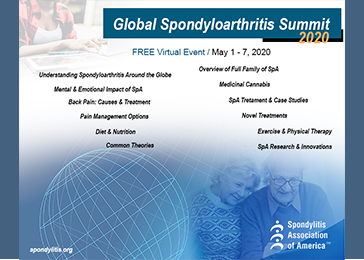 Other NEWS