Covid-19 Global Registry

A Message from the Global Rheumatology Alliance:
"Our mission is to create a secure, de-identified, international case reporting registry and curate and disseminate the outputs from that registry."
This registry will facilitate our primary goals, which are to:
Understand the outcomes of patients with rheumatologic conditions who develop COVID–19 infection and the influence of their comorbidities and medications on their outcomes.
Understand the influence of rheumatologic medications, such as hydroxychloroquine, on the outcomes of patients who develop COVID–19 infection.
We are interested in all cases, from asymptomatic to severely affected.
We aim to be able to provide information back to doctors, patients, and researchers about how rheumatic disease patients and those treated with rheumatology drugs fare when they get infected. Data collected will potentially provide valuable information going forward to help make decisions about how to direct further studies and treat our patients.
There is a physician-entered data registry, now prominently displayed on the home page of the website at https://rheum-covid.org.
To maximize the registry's use and impact, we are asking that organizations share the registry with their members via as many methods as possible, such as:
Adding The COVID–19 Global Rheumatology Alliance to their websites.
Emailing their members.
Advertising the registry in their publications.
Sharing information via their social media. platforms such as Twitter and Facebook. Please tag us with our Twitter name @rheum_covid, and consider using the Twitter hashtag #Covid4Rheum.
To further simplify this process, we have attached a few images designed for easy social media sharing and you should feel free to use these freely.
Thank you again for your support,
The COVID–19 Global Rheumatology Alliance team

(If you would like to be added to the Global Rheumatology Alliance mailing list for future updates, please follow this link and they will get you added.)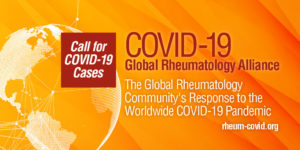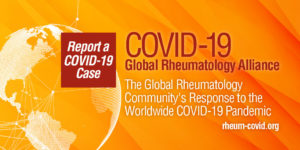 Other NEWS