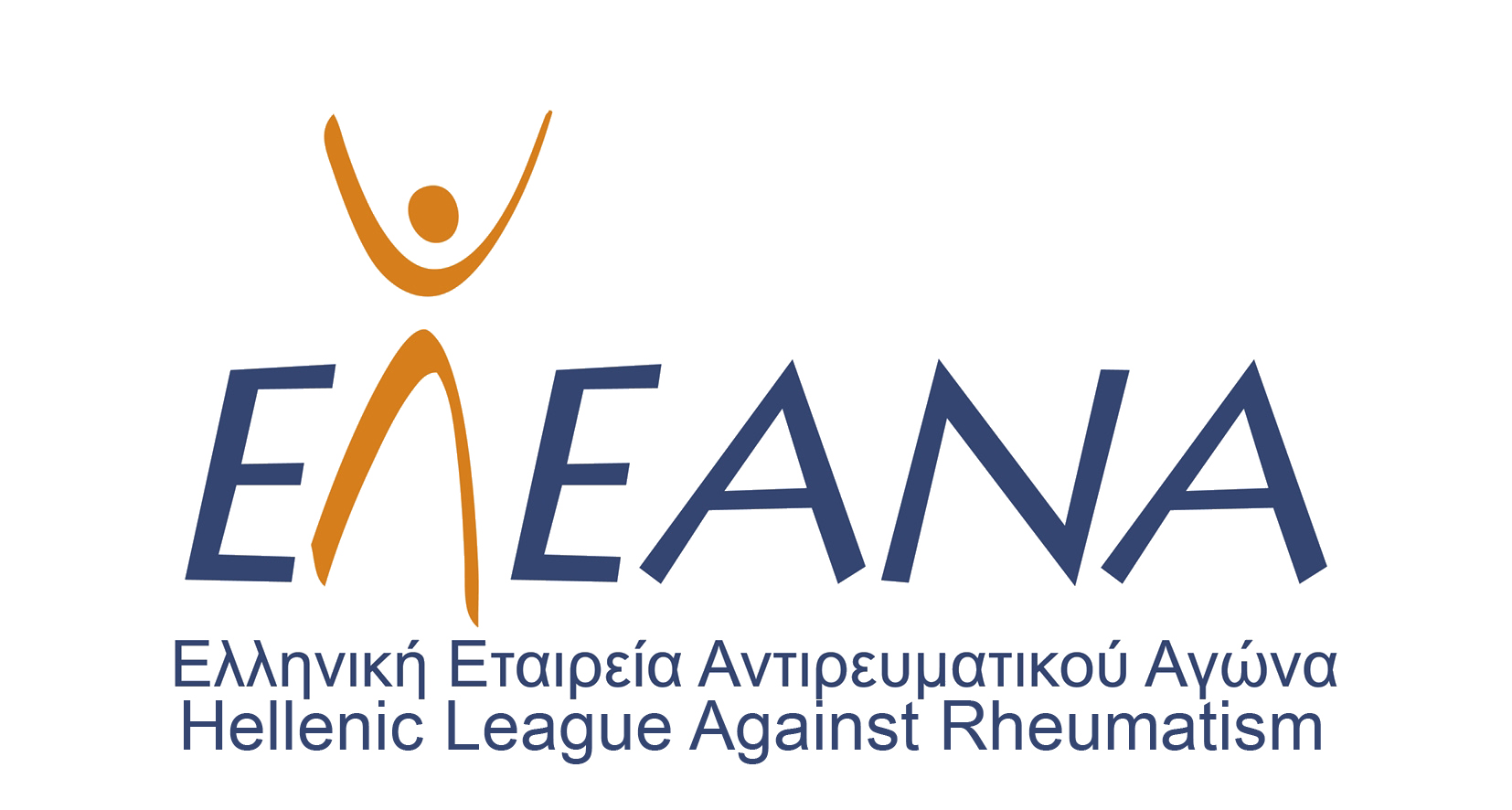 Greece Ελληνική Εταιρεία Αντιρευματικού Αγώνα (EΛ.Ε.ΑΝ.Α.) - Hellenic League Against Rheumatism

Hellenic League against Rheumatism 51 Stadiou Ave., GR 10559 Athens, Hellas Tel. Help Line: +30 210 8237 302
Together we can fight RMDs and MSCDs​
Hellenic League Against Rheumatism established in 1978 in Athens and today has 7700 paid members and  followers. 
The league has 9 branches in main cities of Greece while has strategic cooperation with​
THALIA, the Dodecanesean Association of Arthritis-related Autoimmune Disease Sufferers​

IASIS, the Cycladic Association of Rheumatic Disease Sufferers and friends​
Represents exclusively in Greece EULAR , EULAR PARE , EULAR YOUTH and the Department of Public Information o fUnited Nations for Greece. It is member of•PAIN ALLIANCE EUROPE•AGORA PLATFORM (founding member)•EURORDIS•ORPHANET•SJOGREN  EUROPE (founding member)•WORLD LUPUS  FEDERATION•LUPUS EUROPE•VASCULITIS INTERNATIONAL•ACTIVE CITIZEN NETWORK. It is included in the EU Transparency Register 
Participates in a number of projects in collaboration with universities in the country such as the Aristotle University of Thessaloniki, University of West Attica, and the Department of Public & Community Health of University of West Attica  that have to do with public health & mobile applications. From October 2020 with the Department of National Focal Point & Health & Safety Policies at Work of the European Agency for Safety and Health.
AWARDS
1rstprize  from EULAR PARE  for the project "Rights of people with rheumatic diseases", 2016

1rstprize  from EULAR PARE  for the project  "Sexual life of young people with rheumatic diseases», 2017

1rstprize from EULAR PARE for the project  "The professional life and problems of people with rheumatic diseases",  2018

2ndprize from PRIX GALIEN GREECE  for our project  "Health School"

1rst prize  from PAE for the creation the Stigmappin collaboration with the Department of Public and Community Health, the School of Public 




  Health, the University of West Attica and the Cyprus Anti-Rheumatic Association, 2020
Our objectives/aims are  to familiarize the general public with RMDs/MSCDs and the patients need, to improve the medical care of the patients, to inform all target groups (HCPs, payers, patients and general public) about the severity of MSCDs, the possible comorbidities, the new therapies in order to improve the patients' quality of life, to  provide psychological support  through Help-Line, to organize educational congresses and meeting  both for HCPs and patients and to cooperate closely with leagues, scientific societies  and governmental authorities for awareness disease campaigns.​
We offer: Help Line for psychological support , Self managements education program meetings , Translate, publish and distribute the students' handbook "Clinical assessment of the musculoskeletal system" free of charge to university students & doctors,  Cooperation with Authorities,  Awareness events  and congresses across Greece and virtually for HCPs, patients and wide support and Disease awareness campaigns