ASIF Member Webinar Series
The potential to treat axSpA via the gut microbiome
Watch Dr Matthew Brown share his research into the link between axSpA and the gut microbiome in our inaugural Member Webinar.
Dr Matthew Brown MBBS MD FRACP FAHMS FAA, is the Director, Guy's and St Thomas' NHS Foundation Trust and King's College London NIHR Biomedical Research Centre, and is pioneering this exciting area of research.
"What a mind-blowing session. Thank you so much for this very interesting webinar", Maranda van Dam, Axial Spondyloarthritis Association of South Africa.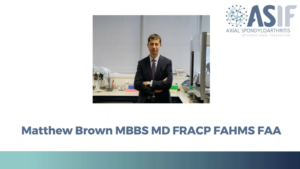 Watch Webinar  here
Our new Member Webinar Series will cover topics, including the latest research, fundraising, emerging treatments, membership, advocacy and others.
The webinars will be held every few months and we will vary the day and time to enable as many of our members to attend live. They will be recorded for those who cannot attend the live session. If there are topics that you would like to see covered in future webinars, please contact Joanne at communicationsmanager@asif.info.
To translate this webinar, please contact Joanne.
Information about the next webinar – coming soon!
Other NEWS