Walk Your AS Off 2018!

To mark World AS Day, for the whole month of May we are promoting Walk Your AS Off and the Selfie Challenge 2018
Have you registered your team?
If not you can do so here
May 1st – May 31st , 2018 – the Selfie Challenge
How to Participate
Follow @walkasoneworldwide on Instagram
Post a new selfie photo of you or your friends and family participating in Walk Your AS Off to Instagram.
Include the hastag #ASwalkSelfie and tag @walkASoneworldwide in the caption
You may also include ONE of the following country and organisation hashtags #ASwalkSelfieASIF #ASwalkSelfie(your country)
You can also email your photos to Jo at office@asif.info and she will post your photos for you
Wold AS Day Logo
Please feel free to use it on your publicity material and websites.
You can download it here in difference formats
This project is supported by UCB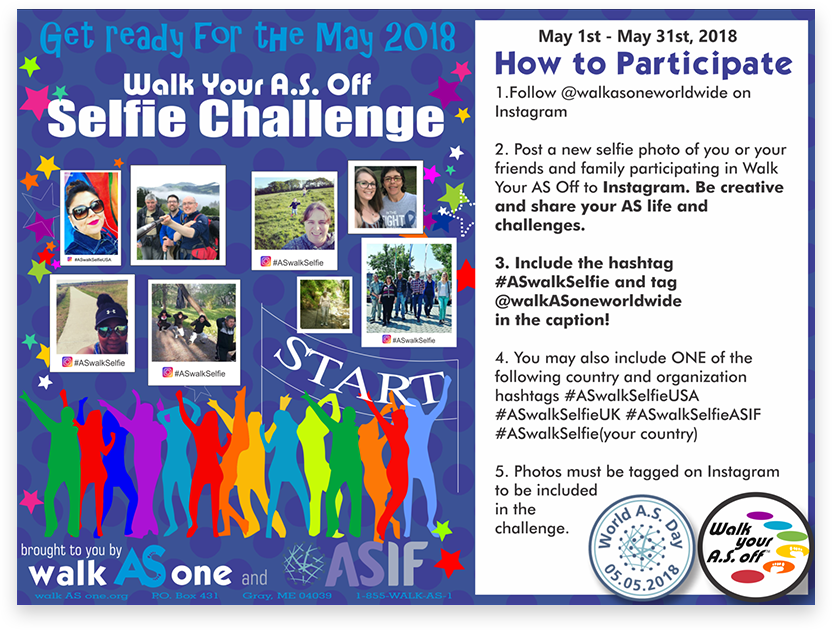 For more information and to download the instructions in pdf format, please click on the picture.
To download the above in other languages, please click the links below.
Other NEWS
Michael Mallinson has lived with AS for over 35 years. He developed this content as a consultant to Novartis Ph
Read More

The European Medicines Agency (EMA) has approved the label change for UCB's CIMZIA© (certolizumab pegol), making i
Read More