Rheumafit
Online exercise videos for AxSpA/AS and other arthritis patients
That exercise is important for people with AxSpA/AS and other rheumatic diseases is repeatedly confirmed in scientific studies. However, various studies have shown that many sufferers are unable to take part in a group therapy course due to time constraints and geographical reasons. The Ankylosing Spondylitis Association of Switzerland (SVMB) has now launched the Rheumafit platform in collaboration with the Zurich University of Applied Sciences (ZHAW). Rheumafit is ideal for use at home but can also be used in a group setting.
Rheumafit is now available in English as well as French and German!
Various exercise programmes suitable for people with Axial Spondyloarthritis and other rheumatic illnesses can be found online at www.rheumafit.ch.
Each exercise comes with a video illustration and written on-screen instructions, plus important hints for training at home. Each exercise program indicates its purpose, the duration (most are under 20 minutes), the intensity, the targeted body parts as well as alternatives or variations to the main exercise.
Filters allow you to select the duration and intensity of your exercise programme as well as on which part of the body you want to concentrate. Rheumafit can automatically suggest those exercise programs that best fit your profile. The programs can be accessed from any device connected to the Internet, be it a smartphone, a tablet, laptop or an Internet-capable television set (Smart TV). More than 20 exercise programmes are available. You can register for Rheumafit for free at www.rheumafit.ch/signup.
Rheumafit's exercise programs were developed in close cooperation with Prof. Karin Niedermann, head of the masters' program in physiotherapy at the Zurich University of Applied Sciences (ZHAW) and consulting physiotherapist at the Ankylosing Spondylitis Association of Switzerland (SVMB). She encourages those living with AxSpA/AS to train with the help of online videos: "Rheumafit is an excellent support tool for individual training. It enables the patient to train for strength, endurance, mobility and coordination two to three times a week. This also corresponds to international movement recommendations, which are effective, safe and feasible for people suffering from rheumatism. If pain occurs during the exercises, you should talk to your physiotherapist to find a suitable selection of exercises."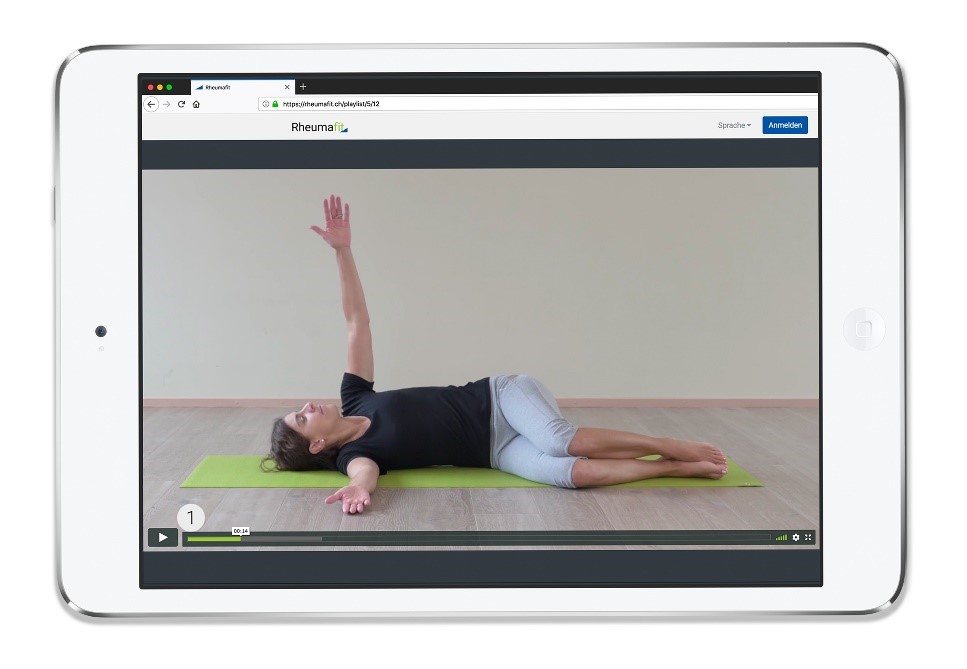 Other NEWS