AFLAR Conference 2023 Report
Rheumatology a New Dawn in Africa but what about Advocacy?
Author Maranda van Dam- ASIF Trustee, Chairperson ASASA South Africa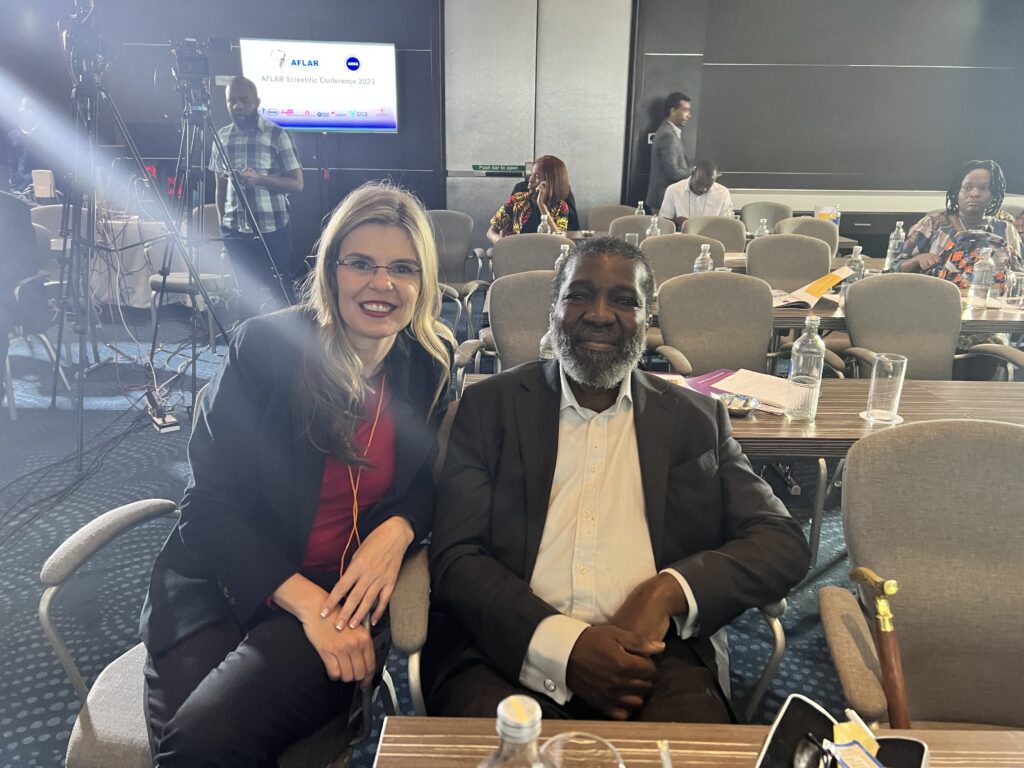 There is a massive lack of rheumatologists in Africa. According to a study done by the ACR in 2015, the ideal ration would be 2:100 000.
Africa currently has 150 rheumatologists serving a population of 1.25 billion, which is a mere 0.012:100 000. The majority of the rheumatologists (85) are in South Africa (60 million population) with the remaining 65 serving 1,240 billion people.
A roadmap must be created to increase the number of rheumatologists and enable more equitable access to healthcare across Africa.
Maranda van Dam and Prof. Olyfemi Olafipp Adelowo
In contrast to earlier reports, rheumatological conditions are now not considered to be rare in Africa and several articles reflect this. With globalisation on the increase, we are seeing migrants from Sub-Saharan Africa, living in the West, where they receive good attention and care.
The African League of Association (AFLAR) represents all 54 countries in Africa; and on 22 February I travelled to Nairobi, Kenya to attend its conference.
__________
The first day was spent doing clinical training at the AGA Khan University Centre, where topics included examination of the upper limbs, lower limbs and spine. The joint injection workshop was also highly rated by the scholars.
The keynote speaker at the AFLAR Conference was Prof Anthony Woolf, handling an important topic of the Global Burden of RMSs, and how the global rheumatology community should respond.
Herewith his key messages: Musculoskeletal health is central to wellbeing and healthy independent lives. Musculoskeletal disorders are common in all countries and cultures. In fact, the impact across Africa is much larger than previously thought.
This major cause of disability places a significant burden on health and social care. There are effective ways of preventing and controlling musculoskeletal conditions but these are not implemented with equity. There is a lack of policies and priorities for musculoskeletal conditions and investments in prevention, treatment, education and research.
Prof. Woolfs' key recommendations were to educate and engage communities and governments, integrate MSK health into policies, build capacity, sustainable financing and surveillance. The importance of the strategic work at the WHO regarding MSK diseases could not be understated.
__________
Over the next two days we listened to revealing abstracts out of different parts of Africa, and herewith some highlights:
Nairobi, Kenya – a call was made for urgent registries for understanding the burden and impact of MSK and autoimmune diseases in Africa and improving the diagnosis, treatment and management of these diseases.
East Africa – a total of 1089 community consultations in Zambia and Kenya were completed and a total of 271 people reported with MSK issues. Only 3% represented inflammatory joint disease.
Nigeria– a total of 127 SpA patients were seen over a 12 year period, with 81% having AS. This demonstrates the prevalence of axSpA in North West Nigeria. HLA-B27 was prevalent, as was a significant delay to diagnosis.
Dakar, Senegal – 23 cases were found associated with this disease of which 76% were females. The HLA-B27 gene was found in 52% of the cases.
The key takeaways from AFLAR were:
Massive shortage of specialists care across the continent

No access to correct medications and care

Shortage of MRI imaging

Many countries in Africa do not have their own rheumatologists

No robust data available to support funding.

Development of accurate registries

No excising patient support networks in Africa for RMD's
__________
Unlike South Africa and Algeria, patient support networks for axSpA are a foreign concept in the rest of Africa. I only found one other patient group that attended the conference (they support people with SLE). This was a topic of much discussion during AFLAR, the birth of patient support and advocacy across Africa and in all the continents that have rheumatologists. Africa not only has a shortage of specialist care for our RMD patients, but patient support is extremely uncommon.
The paucity of epidemiological data is partly driven by the low number of practicing rheumatologists in Africa.
Parts of Africa have widespread infectious diseases like HIV and hepatitis and regular breakouts of cholera, malaria and measles. Resources and medical care are funnelled to take care of these patients, RMD resources being much less prioritised.
The role of the traditional healer plays a massive role in the delay to diagnosis of a lot of patients; in South Africa 80% of the population seek health care from traditional healers and many people seek health care from both traditional and western medicine.
It is essential to invest in the development and maintenance of accurate patient registries across Africa to address the high burden of musculoskeletal and autoimmune diseases on this continent. Registries can also monitor the quality of care for patients with MSK diseases.
The importance of patient support is lost in most parts of Africa. Education, especially with a focus on West, East and North Africa, needs to be the focus over the next 5 years. It should have a special focus on the role a patient support network can have on already overburdened specialists.
During the AFLAR Conference, I presented two abstracts, on behalf of ASIF and the Axial Spondyloarthritis Association of South Africa (ASASA). I spoke about Delay in Diagnosis Spondyloarthritis, in South Africa and Understanding Mental Health in patients with Axspa. The abstracts were received with much enthusiasm and many questions. Hearing from a patient group was indeed a foreign occurrence for most in the room.
As a new dawn breaks in Africa for rheumatological diseases, a massive need for patient advocacy and support groups will grow exponentially. The lower income countries rely heavily of Western countries for support and education, which makes this hopeless situation seem less so. Most of the African countries now require their specialists to qualify with the EULAR educational course, which sets the bar for the training very high.
There is no doubt that the growing number of RMD patients across Africa will create a massive burden on patient care and support systems. The role of patient support is a crucial element of a normal health system. The needs of a RMD patient are often much more than a clinical appointment. In the foreseeable future Africa will face the challenge of offering patient support to already impoverished countries.
As one of our colleagues said during the conference: "If you do not think that you will make a difference, no matter how small you are, you have clearly not been in a room with a mosquito".
REFERENCES:
Ibrahim DA, Na'Isa MBK, Hamidu A, Profile of Spondyloarthropathy patients in Kano, Northwestern Nigeria, African Journal of Rheumatology Volume 11, January 2023m ISSN 2307-2482
Charifah S, Niasse M, Gueye YA, Diallo S, Spondyloarthritis and autoimmune diseases: preliminary study of 23 Senegal Cases
Genga EK, Call for Action: development of patient registries in Africa
The current outlook of rheumatological care in Africa: Current State, challenges and recommendation. Annals Med Surg 2022;82 https://doi.org/10.1016/j.amsu.2022.104689
Yao Boum, Sylvie Kwedi-Nola, Jessica E Haverer, Rise R G Leke, Traditional healers to improve access to quality health care in Africa.
Other NEWS