India Rheumatology Conference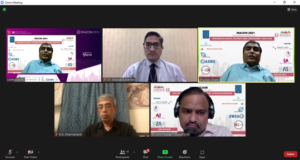 The 36th Annual Conference of the Indian Rheumatology Association (IRACON) took place between 9 and 12 December.  As a prelude to the full conference, we were delighted to be invited to the 'Rheumatologists, patients and caregivers' enclave'. This was a series of sessions bringing together patients and doctors to focus on different rheumatoid diseases.
On 8 December, Dr Shashank Akerkar organised a session dedicated solely to axial spondyloarthritis, which was attended and introduced by the President Elect of the Indian Rheumatology Association, Dr B.G. Dharmanand.  Dr Dharmanand spoke encouragingly about the Indian Rheumatology Association being a knowledge partner of the patient associations, supporting them in their fight for insurance recognition and that he would like a coalition of rheumatologists and patient organisations to work together on the matters most important to patients.
The session focussed on the delay to diagnosis in axSpA, taking a closer look at the factors associated with diagnostic delay.  We were pleased to be able to participate in the session, where all three of ASIF's Indian members also gave presentations.  Bushan Gate from ASWS, Ashish Joshi from Antardhwani and Jimit Thakker from Stand for AS talked about some of the fantastic work they are doing.  The Indian groups also talked extensively about the stigma associated with the disease, both for the individual, but also for their families.  Patients in India are often made to feel that they are somehow to blame for their axSpA, are not doing enough to 'help themselves' or just need to be 'more positive'.  Other common themes were supporting patients in managing their disease; advocating for their rights to treatment and insurance cover, and educating broader sections of the healthcare system.
We were delighted to be given the opportunity to present at the IRACON session and ASIF's Project Manager, Jo Lowe, gave an overview of the barriers to timely diagnosis identified in our Delay to Diagnosis report.  Dr Akerkar, hosting the session, inviting attendees to discuss each of the barriers and what might be done to tackle them.  Very encouragingly, Dr Dharmanand committed, as incoming President, to working with patients and patient associations to explore ways to reduce the time to diagnosis.
Other NEWS