World Ankylosing Spondylitis Day
World AS Day in 2019 is on Saturday 4 May.
Please let us know about your plans.
We will be launching Walk Your AS Off and the Selfie Challenge 2019 with Walk As One very soon and we would love our members to come together to plan a lighting up project – to light one or more buildings on Saturday 4 May.
This is a great opportunity to raise awareness.
If you want to use the World AS Day logo, please contact Jo on office@asif.info
Other Projects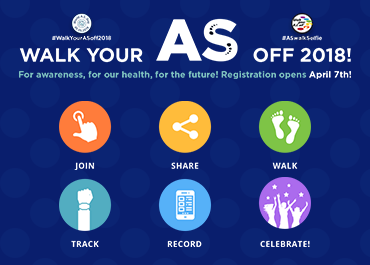 Watch this space! Walk Your AS Off 2019 will be launched soon.
Read More