ASIF 13th General Council Meeting
Guangzhou, China
10-13 October 2018
The ASIF Council meeting will take place in China this year, kindly hosted by Dr Jieruo Gu and the Association of Chinese AS Patients and Medical Advisory Board of Chinese Health Promotion Foundation.
The meeting is from 10-13 October. You can download the programme here.
We have some amazing speakers.  We highly recommend you send a representative or two if at all possible.  It will be not only an excellent opportunity to network with representatives from other national AS organisations from around the world, but to showcase your work as well.
Speakers will include:
Dr Muhammad Asim Khan, MD, FRCP, MACP, MACR an expert in research into spondyloarthropaies.  Dr Khan is a founding member of ASAS, SPARTAN and GRAPPA
Jennifer Visscher from Walk AS One, a very successful online campaigner
Souzi Makri, President ENFA, EUPATI Fellow, Vice-President CYPLAR, Honorary Chair AGORA.  Souzi will talk about personalised treatment and shared decision-making
Dr Tuncay Duruöz will talk about the new criteria for axial and peripheral spondyloarthritis.
We really want to hear from our members at this meeting so there will be plenty of opportunity for you to take part in workshops and we will invite each country attending to give a short presentation about something of note – a recent success story or triumph – or even something that did not go so well. So that we can all learn from each other.
We hope to have presentations from up to 8 new member counties.
There will be a welcome dinner on Wednesday 10 October, Thursday, Friday and Saturday morning will be talks and workshops. On Saturday afternoon our hosts are planning and excellent trip out for us to see some points of interest.
We will be staying at the Guangzhou Southern Congress 1 Station Hotel.
An invitation has been sent to each member organisation.  Please contact Jo on office@asif.info if you have not receive it or if you have any questions.
We recommend you book your flights early, the nearest airport is Guangzhou Baiyun International Airport.  You can also take a high speed train from Hong Kong (about 2 hours).
Other Projects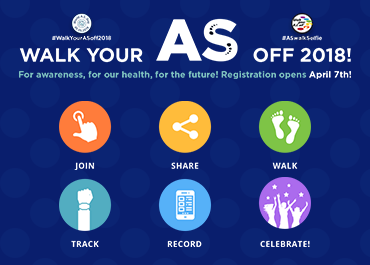 Watch this space! Walk Your AS Off 2019 will be launched soon.
Read More